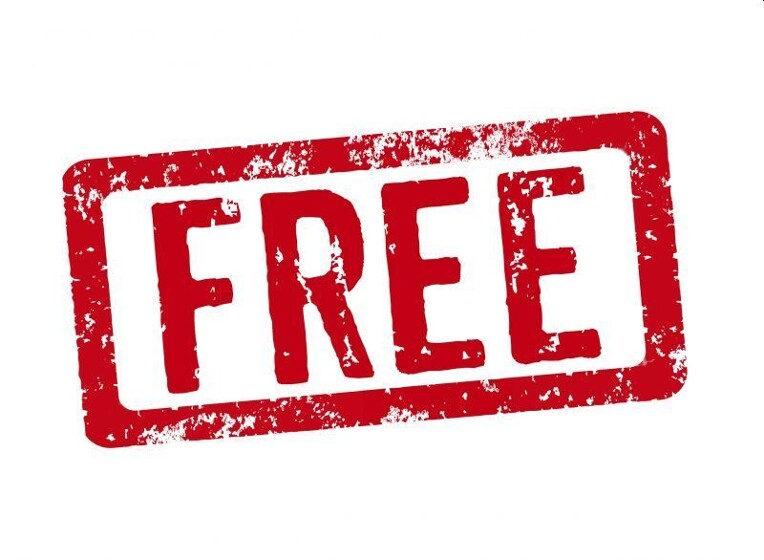 Step-By-Step Tutorial to Discover All Free Roblox Items
How to Get Free Roblox Items?
Posted by RobloxPuppy 2022-04-22
Robloxians know well that the best Roblox items are the ones titled as 'Featured' in Roblox Avatar Shop, since Roblox itself creates and distributes these products. These premium items can be very expensive to purchase. As it turns out, the same exact Avatar Shop is a great source for items free of charge. Follow these instructions to get them:
What is Roblox Avatar Shop?
The Avatar Shop, formerly and most commonly known as the "Catalog" is where Roblox players can purchase virtual clothing and items for their avatar using Robux - the in-game currency. This inventory of Roblox items is basically a pool of game-items, divided into categories (Bundles, Accessories, Animations etc.) and sub-categories (Faces, Pants, Emotes etc.). Some items are in endless quantity while others are available at community-based prices in finite quantities. New items in the shop are most likely to be published when a new hour strikes during weekends, however they may also be released at non-specific times. Note the price each item costs labeled in R$ or RBX that stands for Robux. Check how you can get Free Robux in our other guide here.
How to Get Items for Free in Roblox Avatar Shop?
Most items on the Avatar Shop cost R$ to purchase. However, each shop category has at any given time at least 1 (or more) free item available for you to get.
Free items are often released as part of a special promotion and sometimes they are only available for a limited time, so make sure you check the Avatar Shop for free items frequently.
Once logged into your Roblox account, navigate to the 'Avatar Shop' and find the filters area on the left hand side.
Click the 'View All Items' text link without typing any specific search string, to expand the filter area.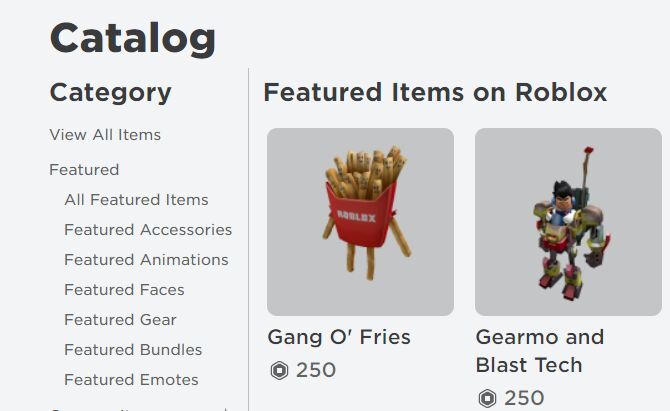 Scroll down to locate the price filter on the left-hand side. Use the filter to specify your target price value;
Since you are looking for free items, use the value '0' (zero) in both the minimum price field and the maximum price field.
Press "Go" to filter out all items whose price is different than '0'.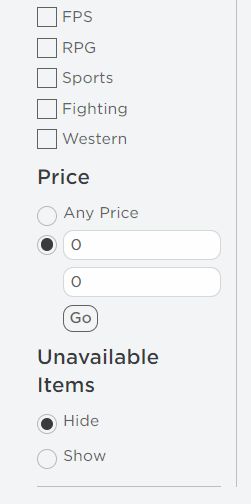 As a result, you can now see many different items titled as "Free" that do not require Robux or money to get hold of, i.e. all are free Roblox items.
By default, all free items by the Roblox team, also known as 'featured', will be listed first. But still, all listed items you see now are free items and available for you to choose from.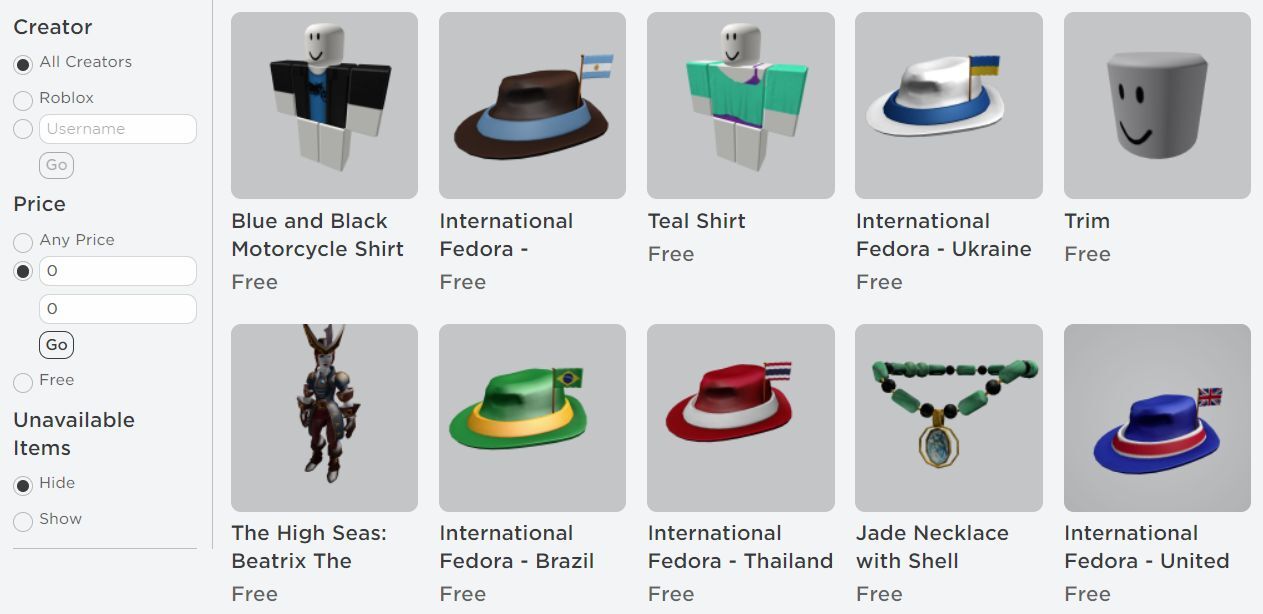 Clicking a specific item's image, you can get more information about this item.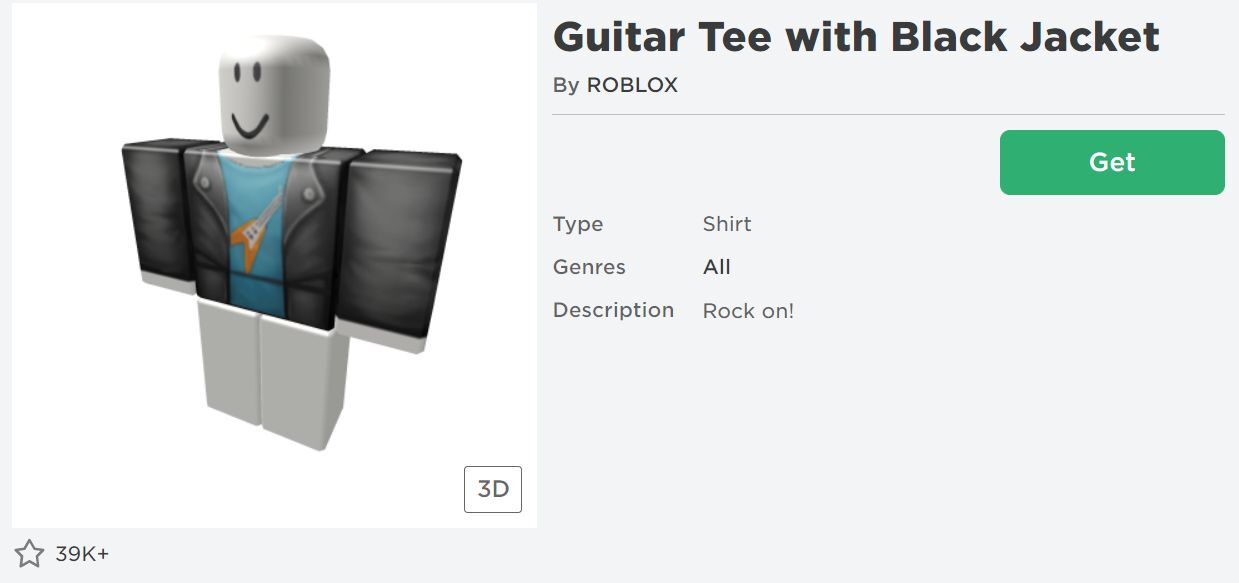 At any time during your catalog exploration, you may click the black "Get" button. Clicking it will add the specific item to your personal inventory.
Once added, click the 'Inventory' menu title in the menu bar, to make sure the free item was added successfully to your collection.
How To Navigate Between Multiple Catalog Pages to Discover all Free Stuff?
Surprisingly, you may discover several pages of items that are titled as 'Free'. These are changing from time to time so the total amount of free items seems to be dynamic.
By using the pagination control at the bottom of the catalog page, you will be able to navigate forward and background between the catalog pages and discover all 'Free of charge' Roblox items available for you at this specific timing.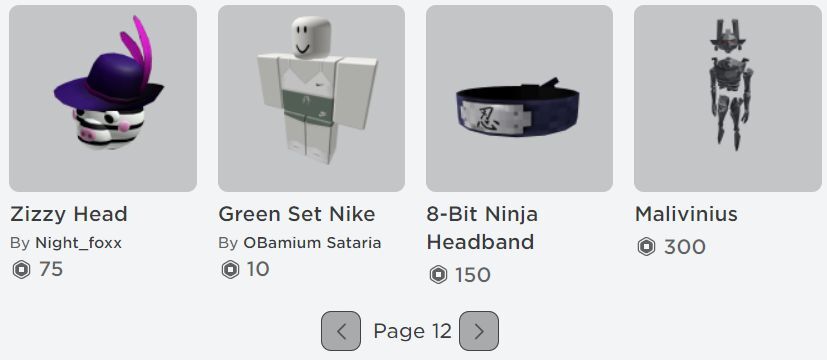 What Common Free Items Can Be Found in Roblox Avatar Shop?
Here's a list of attractive common items that are free to get on Roblox Catalog at the time of Summer 2020, with a direct link to view them:
What Unique, Seasonal Free Items Can Be Found in Roblox Avatar Shop?
Here's a list of highly uncommon items that are free to get on Roblox Catalog at the time of Summer 2020, with a direct link to view them:
Conclusion
While the most sought after Roblox in-game items will cost you Robux to get hold of, there are many items that are free of charge and available to get for any registered Roblox player, at any given time, by simply discovering them in the Avatar Shop.
Following the steps in this guide, you are now able to explore the catalog, locate these free items and enhance your game experience for free.Note that free Avatar Shop items are usually limited in quantity. Visit the shop occasionally to identify and get the new ones in time before they run out