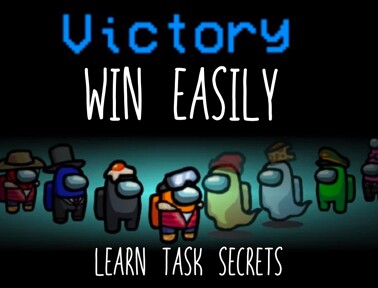 Win Among Us By Learning These Tasks Secrets
Posted by blox.zone April 22, 2022
Accomplishing all 'Among Us' tasks quickly and efficiently is the secret to let your crewmates win the game time and again. The fact the current exciting version of 'Among Us' game on both iOS and Android has only 3 available maps, does not make it any easier. While all tasks are short mini-games that Crewmates need to accomplish in order to win the game, each introduces a different challenge. This article will guide you through the various tasks types and teach you how to complete them successfully in minimum time.
1
How To Effectively Accomplish Tasks
How Many Tasks Needs to be Completed
The number of tasks that need to be performed on each level played, by each crew member is defined by the game's host. This pool of tasks has a maximum of 2 common tasks, 3 long tasks, and 5 short one per game level. The task gauge in the upper-left corner increases upon each task completion by a crewmate and once the gauge is full, the Crewmate team wins.
Tasks Length is Map Dependent
Tasks' length may be titled according to the map currently played; 'Fuel Engines' task is considered a long task on both 'The Skeld' and 'Polus' but is considered a short task on 'Mira HQ' map. Tasks take time and a precious screen real estate, which is exactly why their accomplishment should be strategically planned. Learning how each task unfolds on each map will make Crewmates' life much easier and promote a quicker win with lower risk of being killed by the imposter.
2
The Different Tasks Flavors You Must Know

What's Special About The Multi-Step Tasks
Specific Other tasks are titled 'Multi-step Tasks'. These require a full set of small objectives to be completed, in order to turn the task into a completed' mode. 'Fix Weather Node', 'Replace Water Jug' and 'Open Waterways' are 3 examples of such a task. Note these long tasks are a major time consumers since in many cases- each mandatory stage needs to be performed in separate spaces, and in some cases, even in exposed areas outside.
How Visual Tasks Indicate Imposters
Other Tasks are titled as 'Visual' ones when they provide a clear indication for other players once completed successfully. Luckily, visual tasks are hard to fake by Impostors and as such, provide a good indication on the innocence of the crewmate that completed it. Note it is possible to disable those completion visual indications on demand. If visual tasks are toggled off, they are helping impostors to stay undetected since they act naturally while their worthless actions remain uncovered.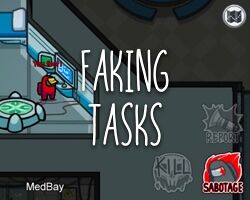 Who Should Perform Fake Tasks
All the above should not be mixed with impostors' fake tasks - These for imposters on the top left of the screen and assist the impostor to impersonate like a crewmate, by pretending to do a 'real' task. When fake tasks are futile, such as the 'medbay scan', they ease up the unmasking of manipulative imposters.
Conclusion
Among Us has been exploding with popularity over the last couple of years, first brought on by a wave of Twitch streamers and YouTube videos that has snowballed into a huge amount of daily active players. Since its 2018 release, it has been rolled into a freeware game on mobile and pay-to-play on pc & mac, and gained substantial traction globally, accompanied with viral memes, fanart and video-shorts across all leading social platforms, bringing a fresh range of new audiences that find this classic game experience - unique & rewarding.
Community Q&A
Ask a Question
We will answer on your question as soon as possible