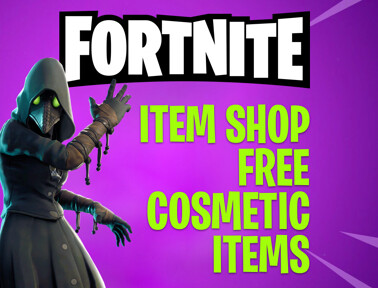 Fortnite Item Shop Free Cosmetic Items
Posted by blox.zone April 25, 2022
Item Shop in Fortnite is the place to purchase new skins, dances, and emotes. There are multiple different ways you can find exclusive deals and even free items there. Continue reading to discover all tricks and hidden features of Fortnite Item Shop and Hidden Ways To Get Free Fortnite Cosmetics.
1
Fortnite Deals & Free Cosmetics in 2021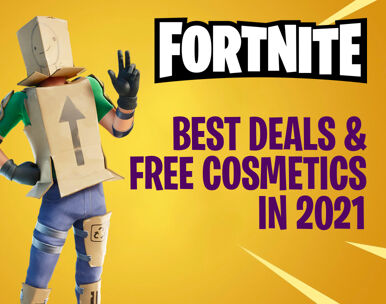 There are is a handful of hidden and secret ways to get Free Fortnite Cosmetic items in 2021. Some Free Items are available in Fortnite Item Store, some you can get from membership programs and some will require securing your account. Players can also take advantage of daily Item Shop Updates, Fortnite Leaks, and Community Choices to get exclusive deals and free skins.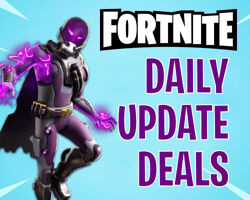 Item Shop Daily Update Deals
The Daily section of the Fortnite Item Shop includes items that have been already featured and the catalog resets daily. All Outfit rarities are included in this section. You can find amazing deals on your favorite Fortnite Skins and get them almost for free. Fortnite Item Shop Updates daily at 24:00 (12 PM), so make sure to check it for a new deal at least once a day. This way you will never miss amazing 90% off deals on select items.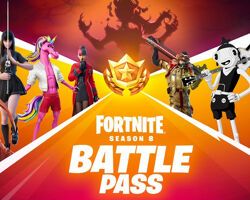 Fortnite Battle Pass Items
Battle Pass is another item available on the Fortnite Item Shop. The Battle Pass is the place for Free cosmetics in Fortnite and it does cost 1000 V-Bucks, but with enough dedication, you can easily get it for free. You get 300-400 V-Bucks out of free battle pass tiers, even if you haven't purchased it. It is possible to get a Battle Pass for Free, it should take you 2-3 Fortnite seasons. Once you get it, make sure to play frequently, so you can get next season's battle pass for free as well.
Free Items With Community Choice in Fortnite
The Community Choice
happens about 2 times per month. Every player has 24 to 48 hours to vote on which outfit or item will be added to the store. Players' choice will be available in the Fortnite Item Shop for the next 24 hours, with a bonus
Free Cosmetic Pickaxe or a Free Wrap
. This is a great way to fill your Fortnite Collection free of extra payment. Follow
Fortnite social media
to not miss this amazing opportunity.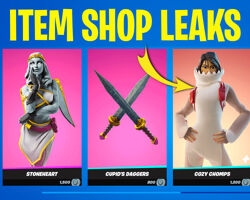 Fortnite Item Shop Leaks Tips & Tricks
Keeping track of Fortnite Item Shop Leaks will allow you to know what kind of
items and deals
are coming into the Store. This will allow you to plan your spending accordingly and avoid paying full price for the item that
will get discounted
. Fortnite Cosmetics Leaks can come out in multiple different ways. Most of the leaked items will be added to the store in the upcoming Fortnite Updates.
Check this Reddit Community
to get regular Fortnite Item Shop & Item Leaks.
2
How to Get Free Fortnite Skins, Dances & Emotes

There are multiple different ways players can get, earn, or win free items in Fortnite. Some of the items are tied to special promotions, some are only available for a limited time during various events, and some will require players to complete challenges. Players can also get rewarded with Free items for securing their accounts. Continue reading to discover every possible way players can get Free Fortnite Cosmetics.
2FA Account Secure For Free Items
If you haven't enabled Fortnite 2FA yet, do it now! Fortnite two-factor authentication is a crucial part of protecting your account from hackers. Every time you log in you will receive a uniquely generated code that must be entered alongside your password. In addition to enhancing your account security, this action makes you eligible for a couple of cool Free Fortnite Items.
Free Fortnite Cosmetics with 2FA
Epic Games 2FA offers much more than account protection. It also is a very easy way to get some amazing free Fortnite Items. Enabling two-factor authentication will grant you a free emote, Legendary Troll Stash Llama, 50 armory slots, and 10 backpack slots for a few simple actions that will make your account save from hackers.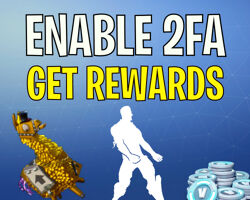 How To Enable 2FA in Fortnite
To enable 2FA
on your Fortnite account, you need to visit
Fortnite.com/2FA
. Once you Log in to your Epic Games you can find the option to enable either email 2FA or authenticator app 2FA right below the password change option. Choose the option that better suits you and follow the instructions on the page to enable Fortnite 2FA. That's it, now your account is secure, and
you are eligible to receive your rewards
.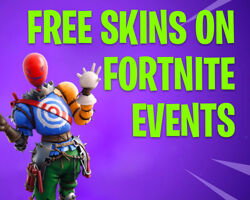 Free Skins From Fortnite Events
One of the best ways to get Free skins in Fortnite is to compete in the limited-time events whenever a new collaboration skin is announced. These have been held regularly for Marvel and DC skins in the days before they are made available in the store and players who perform well in these events get new outfits for free. During the events, you can find special quests in-game that will provide rewards to anyone who completes them.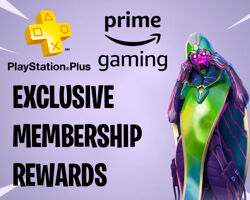 Exclusive Fortnite Items For Gaming Subscription Members
Prime Gaming
and
PlayStation Plus
memberships both offer amazing
free cosmetic items and outfits
. Prime Gaming comes from Amazon Prime subscription. Chances are - one of your family members, or you, already has this subscription, so there is no need to pay extra. Get your hands on Prime Gaming, and you will be able to receive free special items and cosmetics in Fortnite. On PlayStation Plus, on the other hand, you will need to pay for a subscription, but odds are, if you are using PlayStation 4 or PlayStation 5 to play Fortnite - you already have it. Make sure to
check the PlayStation Plus
section every month, to get your free Fortnite items.
Surprising sources of Free Fortnite items are just a click away from you: Your existing subscriptions, Item-Shop leaks for True fans, enhancing your account security, and frequent events will grant you free items that are available for you right now. These are all legit ways for Fortnite players to get free cosmetic items. Follow Fortnite social media, and check Fortnite Shop Leaks every once in a while. Keeping track of the buzz will allow you to never miss any of these promotions, events, deals, and make sure to regularly check your Amazon Prime Gaming and PlayStation Plus subscriptions for an extra set of free rewards.
Community Q&A
Ask a Question
We will answer on your question as soon as possible