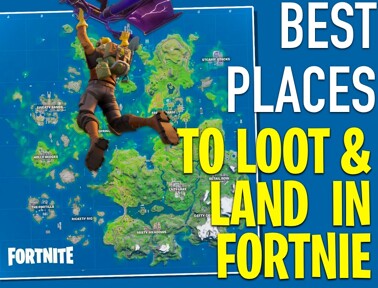 Where to Land & Loot on Fortnite Chapter 2
Posted by blox.zone April 20, 2022
Fortnite Chapter 2 Season 2 introduces many exciting updates for Fortnite fans, especially the explorers among them. It may seems at first that the island has rolled back to its recognizable pre-floods area shape since and the scope of changes feels minor. However, this guide will highlight for players at all levels few potential cartographic twists that trigger new opportunities to kick a whole new island-adventure while enrich their inventory with precious items, materials & sought for loots.
1
Best Places for Looting on Fortnite Chapter 2 Map

Some hot spots on the new map are brand new, while others may look familiar at first. In fact many of these introduce new and exciting challenges for players at all levels. Each of the locations in this list delivers a great looting potential on your way to Victory Royale.
The Authority
The Authority is a Shadow version of the Agency, protected from the flood by a massive seawall, that can be conveniently explored using a zipline and was lowered down since Season 4 of Chapter 2. This location still introduces a risk for all players, but these risks are bundled with an abundance of
looting opportunities
, worth fighting and eliminating the crowds at this spot that competing for the same good.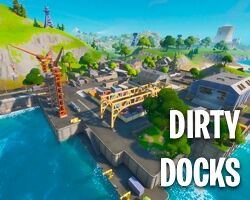 Dirty Docks
This sea side location on the east coast of the island is a busy little place for two main reasons: the impressive amount of
precious chests
waiting to be discovered, but most importantly - Fortnite's Wolverine Trophy which is cool new back bling all pro players must attach to their locker at some point during this season. Choose your visit time carefully to avoid unnecessary crowds and risk, to exhaust its full loot potential.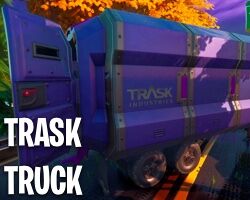 Trask Transport Truck
Being another Marvel-themed location, the Trask Transport Truck landmark located just northwest of Doom's Domain. It's the large purple truck and container sitting on the short stretch of highway road. This vehicle introduces multiple chests scattered along the roadways, as well as a surprising truck vehicle for the player to use for a wild ride across the island. Check out the insides of The Trask Transport. There are free 15K XP waiting to be picked up - an outstanding
bonus
in this season.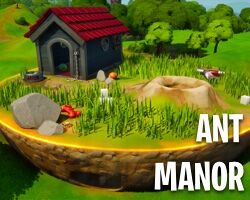 The Ant Manor
Yet another Marvel related spot, the Ant Manor located northeast of Holly Hedges, is a place to search and find multiple chests as well as few other reward Ant-themed Easter eggs worth exploring.
For the challenge it's required to jump off at least 4 of the several dog toys scattered around the Ant Manor location, to be completed successfully.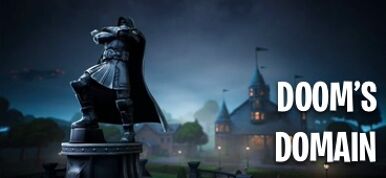 Doom's Domain
The famous Pleasant Park is renamed to be Doom's Domain, featuring the massive Doctor Doom's statue at its center. It's the single most only fixed base available on the map. You can expect "Doom's Henchmen" strolling the grounds, armed with Assault Rifles and Combat Shotguns, surrounding Doctor Doom tower, which is the largest building to the north of the location. "Doctor Doom" himself can be found patrolling the soccer field bunker, around the massive statue or the tower. This sport The location is loaded with chests for looting. In addition, once Doom is defeated, the player gets access to his
precious vault
, introducing even more looting.
2
Best Landing Locations on Fortnite Chapter 2 Map
No doubt looting is a prime objective for all Fornite players. A successful landing in a less crowded area filled with hidden treasures will grant you the best advantage over your competitors. These are the locations to land on the Fortnite Season 4 map: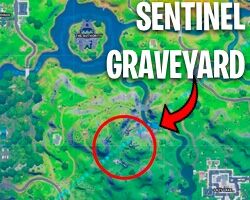 Sentinel Graveyard
The Sentinel Graveyard, located south of The Authority, strewn around in pieces. This useful location is funnily dotted with giant purple robots' body parts, scattered around the surroundings.
Their hands' glowing pads should be used to perform air-jump maneuvers, allowing glider deployment for fleeing the location when needed.
Sweaty Sands
The lovely Sweaty Sands beach town was added back in Chapter 2 Season 1. Being located southwest of Doom's Domain, with its white sands, clear water, and colorful pier, it can seems like a relaxing spot to discovers again and again. Landing on top of the tallest building in this location, named 'Hotel 23', you will encounter plenty of chests and ammo boxes in the main building and within the surrounding structures. Sweaty Sands appears to be the player's best opportunity for a rewarding
looting spree
in this season.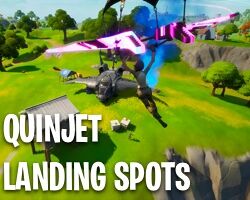 Quinjet Patrol Landing Sites
Quinjet Patrol landing sites pop up in four different locations around the island map. These locations are randomly peaked with each new match and can be identified by the blue rising smoke column that white shape on the map. It's not recommended to land by the Quinjet - You are summoning an unnecessary energy drain by the fierce Stark Robots, so land around this location instead and get geared up first before getting into the match.
Steamy Stacks
This huge nuclear power plant, run by a company called Kevolution Energy, is located at the north-east corner of the map. It is considered a great landing place, due to the extensive amount of chests that can be found around it. Another benefit is its location at the very corner of the map, which allows the player to maintain solitude by avoiding the majority of players that tend to land at the center of the island.
Keeping It Fresh
It's exciting to see just the amount of effort Epic game has put into Fortnite latest map, to keep it fresh and exciting despite the game's organic saturation and the emerging game-title competitors in the market. They did it by introducing new AI enemies, refurbished hot spots and shiny new
loot locations
. While sustaining the Marvel-themed spirit, some legacy locations have been modified to incorporate a new comic theme. Existing spots were upgraded with additional superheroes-specific goodies and Easter eggs for all players to explore and discover.
Community Q&A
Ask a Question
We will answer on your question as soon as possible