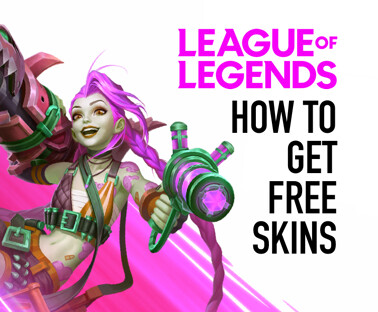 How to Get League of Legends Skins For Free
Posted by Steve Davies April 20, 2022
League of Legends is a massively popular MOBA game globally. Its free-to-play model allows millions of players to enjoy this game for free. Similar to other successful game titles, most of the premium content is located behind the paywall. Still, there are multiple, effective ways any player can follow to get free LoL Skins in 2021. Discover every trick featured in League of of Legends and learn how to get skins with no extra cost. Like all other Wiki guides on Blox.Zone, this 2021 edition will surely surprise you with exclusive tips you can find anywhere else. Read on & start saving on LoL skins today.
1
Grab Free LoL Skins with Skin Shards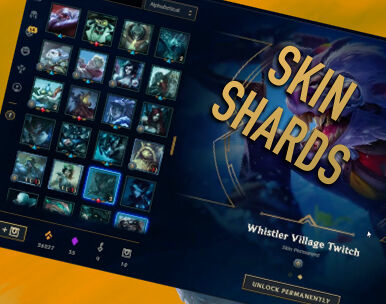 Skin Shards were introduced way back in 2016, and quickly became the primary method of obtaining free LoL Skins just by playing the game. You can earn skin shards through the Hextech Crafting system, by opening Hextech Chests with Hextech Keys. Lots of Hextech Chests and Keys can be obtained while playing League of Legends continuously. Since Skin shards are not exactly skins, an Orange Essence is needed to craft them into actual skins. You receive Orange Essence by dismantling your skin shards or it can be dropped from Loot Chests and Capsules along with shards.
Free Hextech Skins and Combining Shards Method
Hextech skins are prestigious skins that can be obtained exclusively by trading them for 10 or more Gemstones. You can get Gemstones by opening Hextech chests or honor System rewards. All of the Hextech skins are unique and can only be obtained by this method, which does not require any purchase.
Another way to put your skin shards to use is to combine them. You'll need to use 3 skin shards and combine them, to get a permanent RANDOM skin. You can't control which skin you will get, but you can potentially get any League Of Legends skin in the game, for free.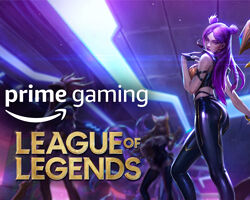 League of Legends Free Skins With Twitch Prime Gaming
If you or your family member already have an Amazon Prime subscription, you can utilize it to get 36 Free Skin Shards per year or 3 per month.
To get your free League of Legends Mystery Skin Shards go to Twitch Prime Loot Page and link your Riot Games account with your Amazon Prime account, and claim your rewards.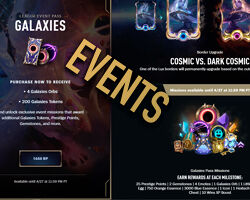 How To Get Free League Skins During Events
Another way to get Free LoL Skins is to participate in themed events like the Lunar New Year League Event, or Space Groove 2021. Events are usually tied to the holidays or release of new skins and come with lots of daily and weekly quests that reward you with tokens that you can use to purchase skin shards, capsules, Hextech chests & keys. Additionally, along with these events Battle Pass is released, upon purchasing it you will get even more quests and much more tokens to spend.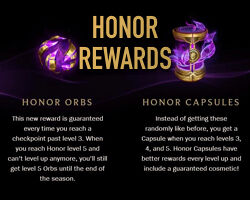 Free LoL Skins With Honor Rewards Explained
At the end of every season, Riot Games rewards players being friendly and following the summoner's code, basically not being toxic.
During the season you earn honor levels along with free Skin Shards.
At the end of 2020, each player that had Honor level 5 received Grey Warwick or Medieval Twitch skins for free, which are super rare and unique. The best thing about them - you get them for free, just for being nice to other players.
2
How To Get Even More LoL Skins For free

Now you know all the basic stuff about Free League of Legends Skins. Want even more? There are quite a few hidden ways of obtaining free skins for LoL. Some of them are risky, and some will require you to use the server transfer feature, keep reading to discover how to get even more free LoL skins for your account.
Free Riot Promo Skins
Riot Games often give away Promo Skins for free to promote their social presence. Riot Girl Tristana and Unchained Alistar are prime examples of it. Make sure to follow Riot's official Twitter, Reddit and Facebook to be updated regarding free League of Legends Skins.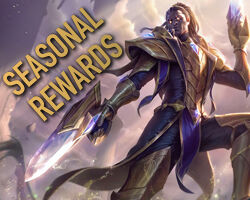 How To Get Free Skins in Seasonal Rewards
League of Legends is famous for rewarding players for their achievements in Ranked Queue, your hard work is always rewarded. At the end of each competitive season, players that managed to get any rank above and including Gold get rewarded with a special Free Victorious skin for a champion that doesn't have a Victorious skin already. If you are having trouble reaching Gold in SoloQ, try to find teams to play in Flex Queue, it's much easier to reach gold there, especially with a coordinated team.
Free Skins When Transferring To Another Server
Smaller servers like Oceania or CIS servers get a lot more free skins than any other region. The reason is - to attract new and old players to populate smaller servers and create a more competitive environment for them. CIS servers have about a dozen unique events per year, which reward you for simply playing a lot of games during the week. You get points for small tasks and wins, and you can exchange these points for 30+ Hextech Chests & Keys. This way you can get 50+ Free League of Legends Skins per season just for playing the game.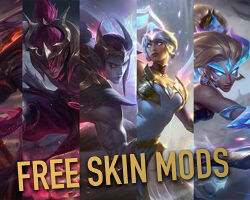 Risky Way To Get All Skins For Free
Some League of Legends players prefers to go the risky way to get free LoL skins. This way is using unofficial League of Legends modifications like Mod Skin LOL which is technically illegal software. These types of skin mods usually display the skin only for yourself while other players in the game won't even see you using skin. Is that worth getting your account potentially banned for? Even worse, this software can contain malware and other viruses which will put your PC or Laptop, personal information, or even banking details at risk.
Community Q&A
Ask a Question
We will answer on your question as soon as possible