How To Get Free Bucks in Roblox Adopt Me?
Posted by Ian Ohm April 25, 2022
Earning bucks may seem Adopt Me!'s players' top incentive. Bucks indeed motivate Adopt Me! gamers to play again and again, without losing the interest, but it's only an enabler; Ultimately, the game experience is up to the player to plan, customize and carry out. This article will detail all available ways to fetch bucks, some are free while others require a trade-off. Read on to discover all available ways and choose the right ones for your Adopt Me! character and game objective, and play away.
1
The Secrets Behind Adopt Me Success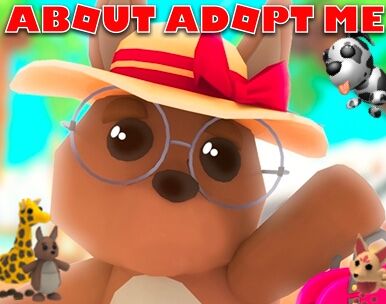 Adopt Me! Is the most popular role-playing game in Roblox. It was developed by the collective team named DreamCraft, which was released back in 2017. Adopt Me! Role-Playing game experience manages to relive several successful computer games such as The Sims, MapleStory etc. Adopt Me has in-game currency which is used by players to enhance gaming experience. Let's look closer at this game and it's currency.
What Roles are Available in Adopt Me
Adopt Me! players can take part in a variety of family-friendly activities: It's possible to be a parent and take care of cute babies or lovable pets. Alternatively, the player can play the role of the baby or the pet themselves, experiencing a whole different set of challenges and fun interactions. All players can customize their houses and upgrade it with a variety of decorations, fun toys (plushies) and vehicles that are game-specific and get constantly refreshed. As in other Roblox games, player's personalization is greatly supported, with a unique set of avatars and cosmetics, some are exclusively available through the game's trading marketplace. The whole game exploration is done in a magical and colorful world that introduces a new adventure on each new game session. These factors allow Adopt Me! players to participate in a highly-social game-experience, joined by real players around the world that share the same enthusiasm for Adope Me, which become real friends over time, while enjoying shared adventures and memories that stay with them forever.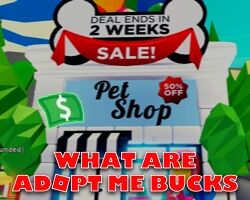 What Adopt Me! Bucks Are Good For?
Like many other Roblox games, Adopt Me! has a dedicated virtual game currency dedicated entirely to this game, named 'Bucks', not to be confused with Robux. Bucks, also known as "AM Bucks" or AMC (stands for 'Adopt Me Cash' in short), are used by players to buy in-game items, such as food, toys also known as plushies, gifts, eggs, and vehicles. By making such purchases, Adopt me! players get to upgrade their experience, make it more personalized and stand out in the crowd.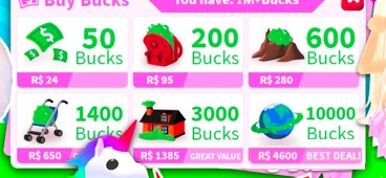 Buying AM Bucks
The most straightforward way to get Adopt Me Bucks is naturally making a purchase in the game's dedicated online store. Unlike other ways detailed in this guide, this would be the quickest way to get hold of more bucks, so in case these are urgently needed, it's better to go safe and utilize this
reliable source
and avoid suspicious trades outside the game itself. As any other Roblox item, Bucks can be bought with Rolbox Robux in exchange rates that are set by the game owners and are changed seasonally, especially around special game events or around shopping days, where
attractive discounts
and bundle deals become available. The minimum amount is 50 bucks for 24 Robux (2.08 Robux for 1 Buck) and it goes all the way up to 10,000 Bucks for 4,600 Robux (2.17 Robux for 1 Buck), maintaining a relatively stable rate regardless of the amount purchased. The up to date exchange rates list is
available here
. Note that purchasing a V.I.P. or the Starter Pack for Adopt Me will make the player
eligible for 100 Bucks or 200
respectively, once purchase is confirmed.
2
How to Get Free Adopt Me Bucks?

Since Bucks allow Adopt Me! players to purchase unique items and experience a more personalized and diversified game experience, they have become the most sought after commodity in the game. Keep reading to learn about all ways to increase Bucks income, identify the ones right for you and plan your game routine accordingly, to maximize your gaming fun.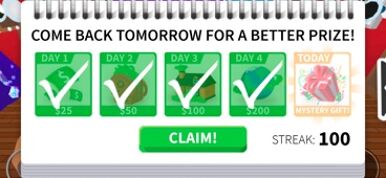 'Come Back to Play' Paycheck Bucks
Adopt Me! introduces a 'Come Back to Play' system that encourages players to visit the game at least once a day during the game lifetime. For each daily visit, the player gets a predefined sum of bucks that accumulates over time. This starts with 25 Bucks at the first day, 50 Bucks for the second, 100 Bucks on the third day, 200 Bucks on the fourth day, and a bucks worth goody (gift or a cracked egg) on the 5th day, when it's also time for this counter to resets itself and starts over. In other words, the player is getting paid in bucks for simply keeping on playing the game day by day, on a regular basis. A full hour of gaming is therefore expected to generate around 600 Bucks, considering the player's activities and accomplished tasks. To summarize, keep playing the game (even as a background process) and accomplishing objectives, will make any player eligible for AMCs as time progresses.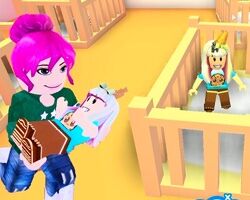 Play a Baby Role for Free Bucks
The 'baby' role is one of the 3 available to role-play in Adopt Me! as of 2020. Playing as a baby is the optimal role-playing mode.
This way the player gets double the bucks, for taking care of himself and his pet.
Bucks can be earned by taking care of yourself as a baby.
Parents can adopt babies and take care of them by joining the Baby's family, and earn Bucks for it.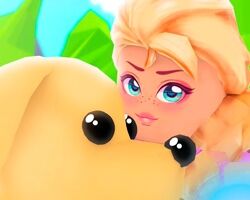 Play a Pet Role to Get Free Bucks
Pets are eventually an essential revenue source for the player; Similar to baby care, once the pet's needs are fulfilled, the player
gets rewarded in bucks
.
Once 350 Bucks are earned, more cracked eggs can be purchased. Once hatched, player's rewards are doubled, by fulfilling the needs of 2 pets.
Following this method, the player can increase his collection of pets and multiply his bucks earning dramatically.
3
Other Ways to Earn Free Adopt Me Bucks

Objectives are one of the most prolific ways to earn AM Bucks. Completing objectives is a safe way to earn surprising amounts of Bucks with a minimal effort. Learn more about objectives and how to accomplish them effectively. Additionally find information about Bucks generators and Adopt Me hacks that are worth your time and attention.
Get Bucks Rewards by Accomplishing Blue Objectives
The most simple tasks that the player gets rewarded for are named
'blue objectives'
which generate 6-7 bucks for completing each, such as Showering, Feeding etc. Here are a few popular 'blue objectives':
Dirty: Buy a shower or bathtub and get washed along with your pet, to complete the task successfully
Hungry: Hungry pets should be fed, at home or in school, with a dedicated pet feeder. Alternatively, the player can use apples from the teacher's desk or Marshmallows from the Shop or campsite. It's also possible to buy hot dogs on the street or other food types for this purpose at the supermarket.
Sleepy: Both Pets and Babies need to sleep every now and then. They can take a nap at the School, at the campsite or wherever there's an available bed. Note that Babies require cribs or sleeping bags to sleep, while Pets need pet beds, obviously.
Thirsty: To accomplish this task, you will need to buy something to drink, either at the Lemonade Stand, the Coffee shop or the Supermarket. Your pet can drink at the School or the Nursery's water fountain. Alternatively, it's possible to purchase an unlimited beverage supply by buying a Water Cooler or a Coffee Maker that will be placed at your home and can be used endlessly.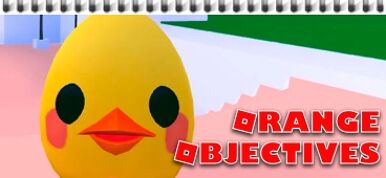 Get Bucks Rewards by Accomplishing Orange Objectives
Other optional game objectives are either place-specific, which demand the player's presence at specific locations, or time-specific, which take place or doable only on special occasions or predefined times. These tasks are named 'orange objectives' and traditionally pay
Bucks for completing each
. Here are 4 examples of these
fun tasks
worth your exploring, as they all make the player eligible for
free bucks
:
Bored: Hanging out at the playground, to cure your boredom. Play the piano at home, or play your toddler games if you are a baby - will make the same effect.
Camping: targeted at families rather than single players, this self explanatory task is all about hanging out at the campsite
Pool Party: A straightforward hanging out at the pool place just for relaxing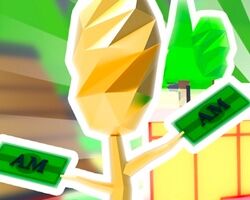 Pick Free Bucks from Money Trees
Money trees
are an in-game item the player can purchase and place at his or her home, which periodically grows
magical bucks
on it.
Each tree harvest can generate up to 8 Bucks. Even if you have more than one Money Tree, you cannot collect more than the limited amount a day.
Multiple trees are allowed, but they are limited to generate a max amount of 100 bucks per day in total. Not a game changer but surely a nice daily free bucks stream that should not be skipped.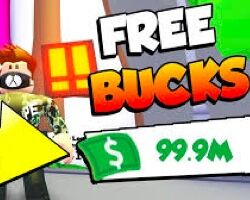 Adopt Me Bucks Hacks and Bucks Generators
Due to its massive popularity, Adopt Me! is a vibrant ecosystem for
scammers and hackers
that constantly look for ways to outsmart their own game using
black-market generators
, or manipulate other game players, aka scammers; These are the two common hacks surrounding Adopt Me! all Robloxians should be familiar with to keep their your game-profile and online identity safe:
Adopt Me! Scammers are players that claim to own games' items, such as vehicles, pets, toys or bucks, and offer to trade them for other goods the player owns and paid for. Trading offers such as "selling X Bucks for half the amount of Bucks" is a clear hack that wastes precious time and generates no items or bucks for the player eventually.
Another common Adopt Me! hacks are sites that claim to operate generators or simulators that can deliver Adopt me! bucks or Robux for free, or make the player eligible for free AMC giveaway promotions using promo-codes, in exchange for their Roblox account credentials, personal or financial details. Unless the tool is operated formally by Roblox or Adopt Me! developers, or alternatively, if you personally know the operators behind the proposed service, Blox.Zone highly recommends you to avoid participating in such operations, as they traditionally introduce an online risk and result in no real value.
Community Q&A
Question
How do i get my own money tree?
Answer Go to the furniture catalog in to the Rare category, you will find Money Tree there. It will cost you 1450 Adopt Me bucks to purchase one Money Tree.
Ask a Question
We will answer on your question as soon as possible