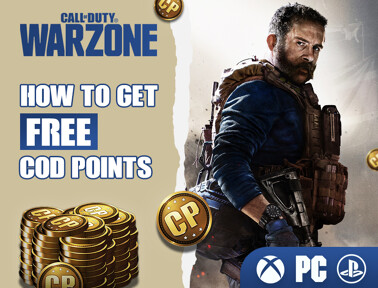 How to Get Free COD: Warzone Points
Posted by Alex Lee April 19, 2022
Call of Duty: Warzone, or simply COD Warzone is one of the most popular battle royale games right now. The game is free to play but you can purchase battle passes or skins to upgrade your gaming experience. Battle Pass is an amazing value and no surprise most of the players want it. Discover how you can get Free COD Points or Free COD Battle Pass upgrade now.
1
Maximize Free Points Earning While Playing COD
Spending real money is the primary and most realistic way of getting COD Points. Though you can earn free COD Points - see below as to how - if you wanted to get the Battle Pass, there are a few ways you can get it for free.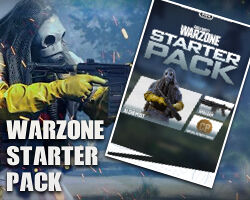 Gain Free COD Points with Warzone Starter Pack
For those looking to upgrade their pc or console there are a lot of offers that feature a
Warzone Starter Pack
which includes a wide variety of bonuses such as
free COD Points
or sometimes even Free Battle Pass premium upgrade.
Look for deals in physical or online stores. This is a great way to get in to the game with an additional bonuses or to upgrade your existing Warzone account.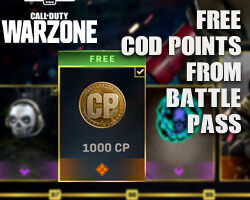 Free COD Points From Battle Pass
Battle Pass for Warzone offers free 1300 COD points, spread across multiple tiers as rewards, with 300 of these COD points being attached to 'Free' tiers. This means, in theory, you only have to pay for a Battle Pass with real money just the once, as provided you put the hours in and save those COD Points until the next season, you can earn the next one for free through play. Additionally you can just farm up free 300 Points for a few seasons and get yourself a Free Battle Pass once you have enough.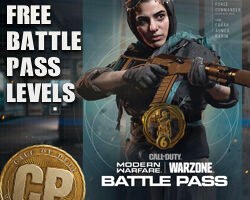 Get Free Battle Pass Tiers
Almost every season Activision allows players to grab 10 or more
Free Battle Pass tiers
for free. This promotion repeats frequently and can get you enough COD Points to upgrade next battle pass for free.
To redeem your free tiers simply go to the 'Just For You' section.
Wherever you were before on the Battle Pass system, now you will progress forward 10 tiers when you redeem this free gift.
2
How to get Free COD Points Outside of Warzone

Spending money each time you want to buy skins or battle passes does not sound very beneficial for the gamer who wants to play his favourite game. Fortunately there are many possibilities to get free COD Points and initially Free Battle Pass outside of the game. The following ways can be done by any Call of Duty Warzone player to gain Free Points.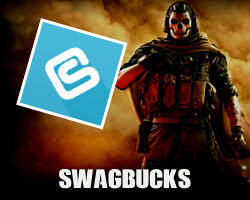 COD Points from Swagbucks
A website named Swagbucks is renowned for its rewards and offers that it provides to its users who participates and successfully completes the
various tasks, puzzles, and surveys
present on its website.
Players can accumulate rewards points on website and redeem it in the form of a Gift Cards or convert into Free COD points to upgrade Call of Duty Warzone Battle Pass.
Free Points on PrizeRebel
Prizerebel is another website very much similar to Swagbucks, which has its own surveys, puzzles, and tasks to be completed by the user, who, in turn, will be offered reward points on
successful completion
of all tasks and puzzles.
These rewards points can be converted to get free COD points to use on skins or upgrade a Battle Pass.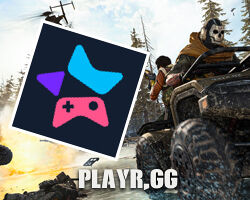 Participate in Playr.gg Giveaways
Playr.gg is a prime website for all you gaming giveaways. You can always find small and major brands giving away some Call of Duty Points as well as additional themed peripherals like controllers, keyboards, etc.
It's a great place to start winning your free points. Playr.gg is a well-trusted and verified giveaway provider.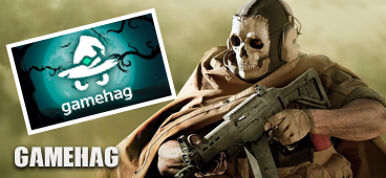 Join Gamehag to Get Free COD Points
Gamehag is one of the biggest games to points reward websites. With an amazing style and lots of easy tasks you can get free COD Points and other games in no time. You can earn enough points for free COD Battle Pass in a few days. You can even earn points using their mobile app. Gamehag is easily the best and the fastest way to upgrade Battle Pass for free.
Community Q&A
Ask a Question
We will answer on your question as soon as possible