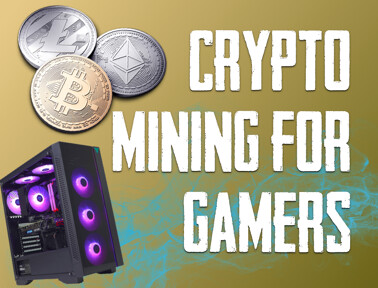 Make Your Gaming PC Work For You, in-depth Crypto Mining Tutorial
Posted by Alex Lee April 25, 2022
Crypto Mining mostly refers to the mathematical process a computer performs that helps create new cryptocurrency coins and validate/register transactions on the blockchain. Most cryptocurrency mining rigs require a graphics card, or GPU for short, in order to complete these tasks efficiently. CPU mining is also a possibility, but it's not even close to GPU capabilities. That means that most of the gamers with decent hardware can start earning money when they are not using their desktop. This Guide will allow you to make your first steps into mining, and you will learn how to use your existing Gaming PC to mine cryptocurrencies.
1
What Do You Need To Start Mining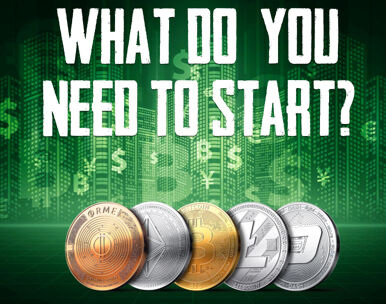 Most gamers don't know that they can profit from their Gaming PC. This tutorial will be helpful for any gamer. It will allow you to earn some crypto by utilizing your GPU when you are not using it to play games, it is possible to do with cryptocurrency mining. If you have a relatively powerful gaming computer, you can do bitcoin, or any other cryptocurrency mining when your computer is idle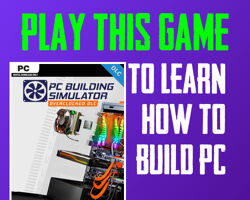 Learn How To Build a PC For Games & Mining
PC Building Simulato
r is an amazing game that replicates the Desktop PC Building process in great detail. It includes hundreds of parts from real-world brands. Most of the parts you can actually find and buy on Amazon or any retail store. It also features a lot of recognizable brands like AMD, MSI, Intel, Corsair, Seagate, Cooler Master, and much more. PC Building Simulator also features realistic BIOS and OS simulation, licensed 3DMark benchmarking, and simulated overclocking.
This is a great game and tool for anyone looking to build or upgrade their Gaming PC by himself. It allows players to simulate the performance of different parts.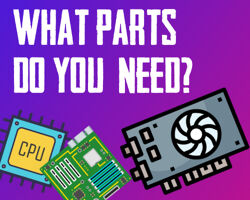 What Parts Do You Need To Start Earning Crypto
It's not actually that complicated, you'll only really need a gaming pc with at least a
10x series Nvidia GPU or AMD Radeon alternative
, like Nvidia Geforce GTX 1050 or AMD Radeon RX 490. Using any card older than that may not be cost-efficient. You can check rough estimates for your GPU here.
It is also recommended to have at least 8 GB of RAM and a recent CPU, even though the CPU won't be used in mining, it still can have an impact on your GPU performance.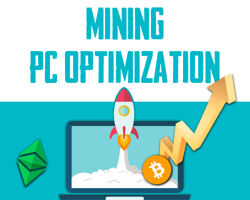 You Must Optimize Your Gaming PC For Mining
Optimizing your Gaming PC will result in
boosting your mining potential
, allowing you to earn more with the same hardware. Since mining mainly uses GPU we will focus on boosting your Graphics card performance. The first step of optimization is adjusting the fan speeds of your video card. The second one is to boost clock speeds, allowing your GPU to perform at full potential.
Do not worry, in case of overheating, your Computer will automatically shut down to prevent damage to your Personal Computer.
Overclock Your Gaming PC To Earn Even More
There are a few different ways to
boost your PC performance
for games and for mining. It is recommended to disable any bloatware and quit any unnecessary apps so any game or mining software can perform at full potential. Additionally, you can use optimization software to improve the performance of your hardware. Most popular, safe, and legit optimization application is MSI Afterburner. It works with any GPU (even non-MSI!), gives you full control, and it's completely free!
Follow these steps to optimize your Computer for crypto mining and gaming:
Start by installing MSI Afterburner from the official MSI website.
Click on the General tab in Afterburner and tick Unlock voltage control, Unlock voltage monitoring, and Force constant voltage.
Restart Your PC.
Slide your temperature limit to 87 degrees Celsius.
Put the core voltage (%) slider all the way to the right.
Click the Check button underneath the sliders to apply the settings.
These steps will boost your GPU so that your Gaming PC can earn some extra bucks.
How Much Can You Earn From Mining?
Different software and hardware result in different Hash Rates, so the potential profit may vary. It depends on the cost of your electricity, your hardware, and even the room temperature.
However, Nicehash has a great tool that can provide rough estimates depending on your hardware. You can check how much you can earn from mining here.
2
What Mining Software To Pick?
There is a lot of different mining software for Gaming PCs. They all serve the same purpose, but they can be very different, so it can be hard to pick one. Let's look together at some of the most popular legit and tested mining software. Keep reading this guide to know which mining software is better suited for you.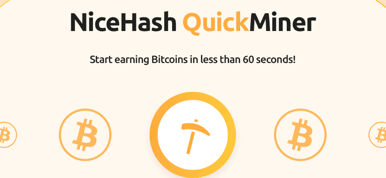 Nicehash, The Most Popular Mining Software
Nicehash is one of the most popular mining software you can use. It is very easy to understand and has a straightforward interface, this makes it our go-to pick. With only a few clicks, anyone can start mining crypto and earning money with your gaming pc. It features currency auto-switching, you can mine the most profitable coin, and get paid in bitcoin regardless.
How To Set Up Nicehash
You are going to need your Gaming PC to start mining with Nicehash. As soon as you install the app, you can begin mining bitcoin. Mining with Nicehash is very easy. That is why it is preferred by many miners. No technical skills are required.
Follow these easy steps to begin earning money:
Create an account on Nicehash
Download the Mining Software and Run it
Create a wallet address from any desktop or mobile app wallet
Copy the address and paste it into Nicehash software
Click on a play button
That's all! Mining Started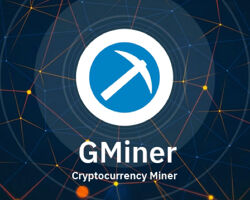 Gminer, Top Pick for Enthusiasts
GMINER
is one of the lesser-known mining software. However, it is popular amongst
crypto enthusiasts
for being able to mine different cryptocurrencies like Ethereum, Beam, Ethereum Classic, or Raven Coin.
Mining different coins can be a bit risky, but as the saying goes - high risk, high reward. So if you want to choose your own crypto to mine - GMINER is the way to go.
Cryptotab, Lightweight Mining Alternative
CrytpoTab
is an alternative browser that will allow you to mine using your
CPU instead of the GPU
. It's a good alternative to conventional GPU mining. With the crypto tab, you can
mine crypto passively
while surfing the web, chatting on social media, watching Netflix, or YouTube. It also supports all chrome extensions. Switching from Chrome to CryptoTab isn't hard, simply export all the data and extensions from chrome and import it into the CryptoTab browser.
How To Store Your Crypto
As you earn cryptocurrency from mining you should consider where you're going to store it. It is possible to leave it in your NiceHash wallet or any other mining app that supports it. But it is recommended to use
dedicated crypto wallets
for
better security
. Once you've hit the minimum required to perform a transfer from mining apps such as NiceHash, you can send all your crypto to a wallet of your choosing. There is even a physical wallet, which is a small offline device about the size of a flash drive that stores all the necessary details to access your cryptocurrency.
Community Q&A
Ask a Question
We will answer on your question as soon as possible