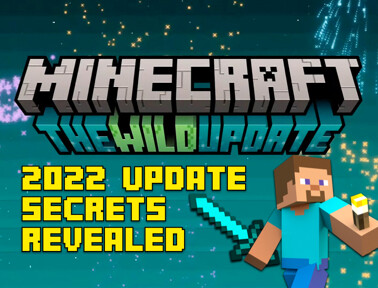 Minecraft 2022 Wild Update
Posted by Steve Davies May 07, 2022
Minecraft Wild Update promises to bring new levels of quality to our favorite sandbox game in 2022. It follows up on the massive Caves and Cliffs Update. There are not many details released so far on the Minecraft 1.19 update, but from what we know it will include new biomes such as the Deep Dark and Mangrove swamp, new mobs like The Warden, new world generation features, and Ancient cities that will spawn in the Deep Dark, which is an area that only spawns underground.
1
Minecraft 1.19 Features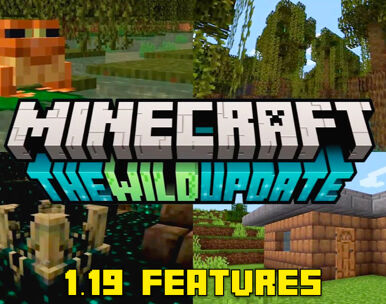 Minecraft 1.19 is the first release of The Wild Update. This is an upcoming major update to Java Edition set to release in 2022. Minecraft: The Wild Update was first announced on October 16, 2021, during Minecraft Live 2021. It will introduce the Deep Dark and Mangrove biomes; ancient cities; mobs like the warden, the frog, the tadpole, and the allay, as well as new items only obtainable in these new biomes. Keep reading for a more detailed breakdown of all confirmed and planned 1.19 features.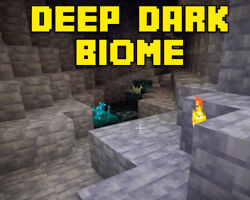 Deep Dark Minecraft Biome
The new Deep Dark biome will spawns underground within the Deepslate layer and will introduce new blocks, and items. This new Minecraft biome will spawn Ancient cities. An ancient city features a very large palace that stretches throughout a deep dark biome. The palace is made up of long corridors as well as some smaller ruins off to the side of the main corridors, which contain one or two loot chests. The Warden mob also spawns in this biome.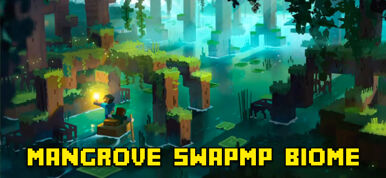 New Biome: Mangrove Swamp
The Wild Update will also feature a major swamp update that will include amazing mangrove trees. Mangrove trees will grow from propagules that can be planted underwater or on land, and they'll grow up into big masses of root blocks with vines hanging down around them. Players can harvest them for a new wood type that can make a complete set of mangrove wooden furnishings such as stairs, gates, and more.
2
Minecraft The Wild Update New Blocks & Mobs
The Minecraft Wild Update may not be quite as large in scale as the highly ambitious Caves and Cliffs Update, but it still brings a bunch of brand-new features and improvements to Minecraft. With the addition of new biomes, of course, comes the arrival of new mobs, and blocks. Mojang is expanding the Minecraft ecosystems with a variety of new mobs & blocks, all of which add something new to the game.
Mud Block
Mud generates in the mangrove swamp biome, and it can also be obtained by using a water bottle on dirt, coarse dirt, and rooted dirt, transforming it into a mud block. You can place a mud block on top of dripstone to drain the moisture out and turn it into clay, or you can turn it into mud bricks for new building material. Entities standing on mud sink, similarly to soul sand. Unlike soul sand, however, mud does not slow the movement speed of mobs or players that walk on it. Additionally, mud, not being a full block, has some unique properties - falling blocks such as sand drop as an item when landing on it, a hopper that is under a mud block can collect items dropped on it.
Minecraft Frogs
Frogs may end up being one of the most exciting mob additions to Minecraft in a long time. These adorable hoppy peeps aren't just here for show — they're also the first to do a few things in Minecraft. Being the first cold-blooded mob in Minecraft, which means that their appearance as fully grown adults changes depending on where they grow up! Tadpoles can grow into one of three different variants, with each one corresponding to a different temperature. Frogs are the first mob in Minecraft that aren't just miniature versions of themselves as babies. Minecraft Frogs will actively seek out and feast on any nearby fireflies.
Mysterious Fireflies
As mentioned above, fireflies are also being added to Minecraft in The Wild Update. We don't know much about these bugs at the moment, other than they'll be the favorite food of frogs everywhere. Fireflies wander and fly around aimlessly. Like other insects, they can scale up walls and will fly away from the player when approached. Fireflies make clicking sounds occasionally. They also glow at night, but this is merely for ambiance and does not provide an actual light source.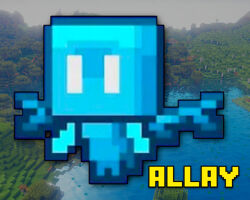 Adorable Allay
The winner of the Minecraft Live 2021 Mob Vote, the allay is officially heading to Minecraft with The Wild Update. This adorable flying mob can be given items, even those that don't stack, and will explore the chunk it's in to find similar items that have been dropped on the ground. The allay can't duplicate items, can't mine or destroy blocks for items, and can't take items from chests. The allay loves music, so it'll take items it has found and drop them off by note blocks it enjoys, but will keep the original item it was given.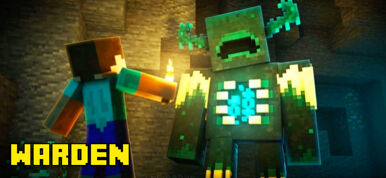 Terrifying Warden
This terrifying mob is almost boss-like and will wander in The Deep Dark biome in search of trespassing players. The Warden doesn't have any vision, which means it relies on sounds and vibrations to make its way around. If you want to avoid a fight with The Warden which is highly recommended unless you're seriously powered up, you'll need to sneak around The Deep Dark to survive. It performs both melee and ranged attacks, and deals the highest non-explosive damage of any mob in the game.
Community Q&A
Ask a Question
We will answer on your question as soon as possible