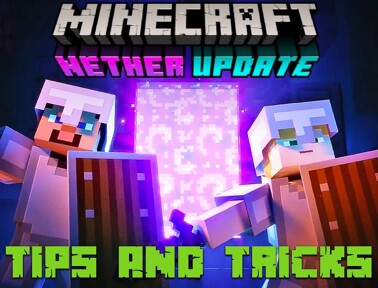 Unlock All Minecraft Nether Update Secrets to Survive Hell
Posted by Steve Davies April 19, 2022
The Nether is a fun, mysterious and hellish realm, full of lava, dangerous mobs and fire, which was introduced with Minecraft 1.16 Update. Venturing into the Nether is mandatory to beat the Ender Dragon and Wither, while experiencing Potion brewery and sneaking away from exploding beds. If played right, the Nether is an enjoyable overworld place to travel great distances in a short amount of time and encounter exciting adventures. This article will guide you on the right way to get prepared for The Nether, how to unlock its hidden secrets while hacking your combats with the new mobs.
1
Get Familiar with The Nether Challenges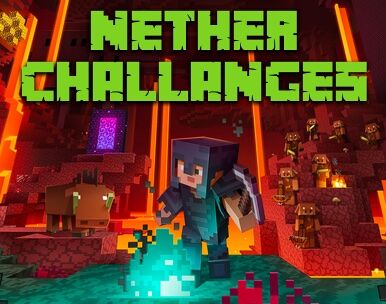 Learn everything about Minecraft's hell dimension that has been recently upgraded with the 1.16 Nether Update. A lot have changed:
New mobs
added while old mobs reworked.
New biomes
and blocks that change the Nether's experience are introduced. And many new options to
gain Minecoins
. Learn what have changed right now and get prepared like a pro.
"Learning is a matter of gathering knowledge. Wisdom is applying that knowledge." (Dr Roopleen)
What It's Like In the Nether
The Nether is a
hell-like dimension
and biome that is linked to the Overworld via Nether portals. It is filled with rugged terrain, fire, seas of lava, columns of lava, Netherrack, unique ores, and hostile mobs, making it a
dangerous terrain
yet fun to explore. Maps do not function properly in the Nether and will generate a brown-gray static pattern with the player's direction indicator spinning randomly. Die in the Nether and you will be transported back to the spawn point in the Overworld, while your items and
Minecoins
will be waiting for you in the Nether for a short while.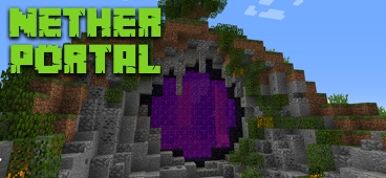 The End & The Nether Portals Differences
Minecraft portals are used to navigate to different dimensions or biomes. They are made of the hard-to-find material named obsidian. There are two portals in Minecraft - the Nether and the End. Portals built in the Overworld should be secured in order to prevent wandering monsters from entering the portal. These creatures can accumulate over time inside the Nether, which will keep them alive due to the lack of sunlight. Mobs such as creepers are especially bad to handle in the Nether due to the soft nature of netherrack and the abundance of lava to fall into. Follow this guide to construct the portal according to your resources and needs.
The Nether Exclusive Locations Tour
A variety of exciting constructions and locations await you in the Nether. These are the ones you must visit to conquer the nether:
Nether Fortresses are Castle-like structures, composed of nether bricks and filled with unexpected drops, dead ends, and challenging creatures, such as Wither Skeletons equipped with poisoned swords. Find it using one of the fortress locators available online
Bastion Remnants are unique large fortifications that host large amounts of gold and gold blocks waiting to be found, that can be exchanged for Minecoins. Note they are also inhabited by vicious piglins, piglin brutes, and hoglins
Nether basins look similar to their Overworld parallel, but uniquely, they replace the ground with netherrack instead of stone, and expose various ores, such as nether quartz ore and nether gold ore
2
Prepare Professionally for The Nether
Preparing for the journey
is the key. Nether has changed so much, that your previous knowledge may be outdated and do more harm than good.
Mobs behave differently
and new biomes may be useful or hazardous. Follow this guide, learn about the new challenges and how to maximize your "new" Nether experience.
"By failing to prepare, you are preparing to fail." (Benjamin Franklin)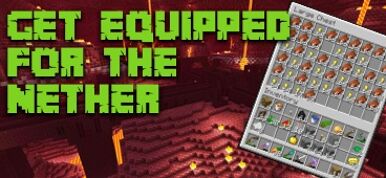 Gear Up Like a Pro for The Nether
Nether travelers find themselves challenged during the visiting to the Nether. The density of dropping lava, fire waterfalls and screaming wildlife is unexpected and requires dedicated equipment to go by.
Dress up in layers
, preferably layers of resilient iron or diamond armor that can be bought for some
Minecoins
. Get an effective weapon, such as a
sword or crossbow
, a pickaxe for items collection, cobblestone to build a secured accommodation. Do your best to bring projectile protection, blast protection and
fire protection armor
, as these will be highly useful in the Nether. Avoid getting lost in the limited visibility of the Nether, by bringing torches or jack o'lanterns with you to be used as markers. Bring warped fungus to be used as a defense against hoglins. Leave your
valuable possessions
back home in a chest, where they will be much safer.
Know The Nether Dangerous New Mobs
The Nether is home to a set of exclusive creatures, each possess unique features and attacks strategies. These are the mobs you must be familiar with before entering the Nether:
The Blazes are flying hostile mobs found that shoot fireballs at intruders that inflict direct damage. These fireballs cannot be deflected by melee attacks or arrows, unlike ghast fireballs, but can be effectively blocked by shields or neutralized by snowballs.
Magma Cubes are extremely hot to the touch but they drop magma cream - essential ingredient in fire resistance potions. Be careful when attacking them, since their chopped pieces will relentlessly attack back.
Zombie pigmen, aka Zombified piglins, have strong family ties. Hurting one will likely attract the negative attention of his relatives in the area.
Ghasts are slightly deceptive. While they look like fluffy, innocent clouds, they tend to get angry at visitors passing by and spit fireballs at them just for fun.
Wither Skeletons are speedy and extremely dangerous. They usually take advantage of dropped weapons and armor and cause substantial damage using them in combat. "Withering" means you'll take extra damage and turn your hearts dark over time.
Piglins is the second most aggressive society that lives in the Nether, mostly around the Crimson Forest. While they usually attack on sight, dressing up as a respectable figure will reduce their aggressiveness
The Nether Achievements' Secrets
While the Nether introduces only 4 new Achievements to accomplish, each of them require a preparation, to understand the tricks needed to win them;
Bullseye
is considered to be the easiest and most fun among the 4, since it's the only one that rewards the player with cosmetic items or emotes, aside from gold.
Oooh, Shiny!
challenges the player with aggressive Piglins, where gold items exchange will be found to be highly effective.
Hot Tourist Destination
is all about exploration of the 4 new Nether biomes that is easier to carry out using a new map version.
Cover Me in Debris
has already been recognized as the hardest among the four. While its main objective is composing a full netherite armor suit, the actual challenge is the resource needed to accomplish it, in terms of materials needed and time to get them. Remember 'accomplishments' can also mean earning some
Minecoins
to be used for more gear and useful materials.
Nether Update Version is Essential
The Nether 1.16.10 update fixes several of the game's identified bugs and improves its overall performance , when played as a mobile device that runs Windows 10 Mobile or older Android and iOS version devices. To update the game manually on mobile, simply visit Google Play or Apple AppStore, verify you got version 1.16.10 already installed. If not - update immediately.
3
Essential Nether Survival Life Hacks

Surviving the Nether is now harder. There are a bunch of useful
tips, life hacks & tricks
that will help you
survive the Nether
while gathering as many resources as possible . Discover hidden techniques players use to avoid danger in latest hellish adventure the Nerther unravels.
"I learned the value of hard work by working hard." (Margaret Mead)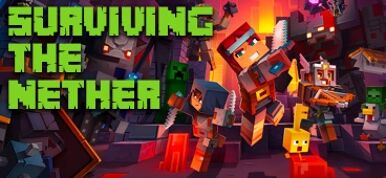 Eat & Sleep Tips to Survive the Nether
The Nether's culinary scene is limited and introduces a constant challenge for its players. All water placed will
evaporate immediately
into steam so players need to keep their water in a cauldron, or bring it with them to the Nether in vials. It's possible to harvest edible mushrooms and turn them into a soup (buy a bowl with
Minecoins
), but it's better to avoid the risk of famine and
bring food
with you when you enter the nether. On the contrary, while it might sound tempting to bring a bed into the Nether, this turns out to be a risky solution; Since there's no time of day in the Nether, beds tend to react to players trying to sleep in them with
a spontaneous explosion
, which kills a player who tried to sleep in the bed, and possibly other players or mobs who happened to be near the event.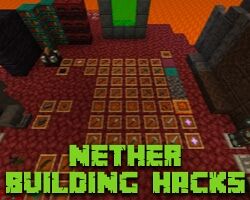 Top Nether Building Tricks
Digging in the Nether is more risky than it looks; Never mine straight down in this hostile domain, to avoid fatal lava eruptions
Use Nether Quartz Ore, found in the Nether embedded inside of netherrack, to build block forms, redstone comparators, or daylight sensors
Ghasts cannot damage Cobblestone, so always prefer using it for your base building and bridges. Use a Netherrack rock as a long-lasting torch to light your construction
Gravel abundance in the Nether and its gravity-obeying property make it useful for a variety of building tasks, such as quickly filling in water and lava lakes, filling up caves to prevent mobs from spawning there, or for setting up suffocation traps
Best 5 Nether Combat Moves
Upon arriving into the Nether, quickly build a base around the portal brick by brick, to prevent mobs from jumping into the Overworld, and recover in later fights
Keep an eye out on the skies around the Nether fortress, where blazes or ghasts are likely to fly by and throw fireballs at you.
Use Beds and Respawn anchors as explosion tools in combat against mobs. Zombified piglins may drop useful items during the combat (gold ingots, swords and others), but fighting them is highly risky. Use a small 3X3X3 shelter, with a block at its foot level to execute a hit-and-run fighting tactic to exhaust this opportunity
Ghasts are likely to be the deadliest Mob in the Nether, especially in bad positions, such as bridging a gap, so the player is advised to avoid unnecessary confrontations, except where needed as part of an achievement
All Nether mobs are totally immune to any fire based swords or flame-bows, except normal skeletons in Nether Fortresses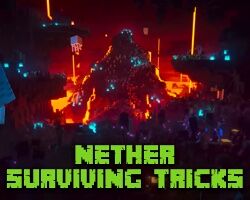 Top Nether Survival Tactics
Wear a piece of golden armor when traversing through the nether to effectively avoid piglin attacks or establish a soul-fire block to scare them off.
While they misleadingly look empty, the vast lava oceans are home to the enigmatic striders, so stay alert when roaming them.
Piglins will prefer to fight you in groups, where the whole clan joins in, so such confrontations need to be carefully executed, according to Piglins' presence around
Locate Nether wart plant (or buy some with Minecoins), which is the basis of most effective potions you will be using in the Nether. Splash potions of Healing can practically save your life when you get to it in combat.
Start brewing potions the earliest possible one you get into the Nether to Put you in a great shape for your Nether ultimate experience.
Community Q&A
Ask a Question
We will answer on your question as soon as possible